An Autobiographical Guide to paying off debt, written by Denise Myhand.
Download your eBook today for only $9.99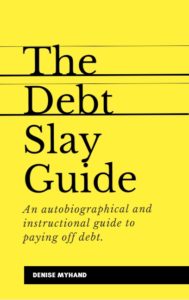 Here's the thing about debt: Although it's pretty common, it often comes with feelings of shame, guilt, and hopelessness, especially if you can't see your way out of it.
That feeling of hopelessness can make you believe you're fighting a losing battle.And instead of facing the debt monster head on, you retreat.
There is a light at the end of the tunnel and the battle against mounting debt can be won.I know this because I was once in your shoes.Debt was taking a toll on my quality of life.I was stressed, overwhelmed, and scared for my financial future.
But I decided to take action and fight back.
And now you can too. The Debt Slay Guide is just the tool you need to win the war against debt.
Taken from my personal experience with debt, and breaking free from it, the Debt Slay Guide is an autobiographical and instructional guide that will help you develop a plan to pay off your debt.
The Debt Slay Guide is the perfect tool for you if:
You feel overwhelmed by your debt and have no clue how to get rid of it.
You've tried to lower or eliminate your debt in the past, but were unsuccessful.
You've accepted debt as "just a part of life".
Sound like you? Well, here's what you can expect:
You'll gain access to three distinct methods for attacking debt. Choose the one that works best for you and your lifestyle.
The information I provide is straightforward and easy to understand. You can use the Debt Slay Guide regardless of your financial background.
You'll be able to download exercises and worksheets to go along with each section of the guide.These will help you list, monitor, and track the elimination of your debt month after month.
You'll receive access to my testimony about debt.I'll share how I was able to successfully slay my personal debt, gain financial freedom, and have peace of mind.
I'll also address some common misconceptions about paying off debt.
Some like these:
Misconception #1: I have to pay off everything I owe at once.
The Truth: Your creditors are happy to work with you to set up payment plans to fit your budget.Don't believe that you have to have a large sum of money to start getting rid of debt.
Misconception #2: Paying the minimum amounts on credit cards is a waste of time so why do it.
The Truth: There are instances when paying the minimum amount is the best option. In the guide, you'll learn when and why.
Misconception #3: Debt is part of the American dream.
The Truth: Though debt is very, very common among Americans, it is in no way living a dream.That mindset is what keeps people hostage to the debt monster day after day.In the guide, you will learn how to truly live the life of your dreams, debt free!
All out of excuses?
Good!
Get Ready to Slay Your Debt.